The Office
is based on our Utility Storage Shed, but with a conventional style entry door and front window along with a covered "porch".
While providing an abundance of storage space, this configuration makes an ideal mobile office unit that can be configured in many different ways to suit individual taste.
The 4' wide porch area is just the right size to provide protection from the elements when entering or leaving the building, and the open interior provides several options for storage and utility use.
The 8' wide Office feature 6 1/2' sidewalls, while 10' and wider units feature an 8' sidewall which yields an impressive amount of interior space and increased headroom compared to lofted model buildings.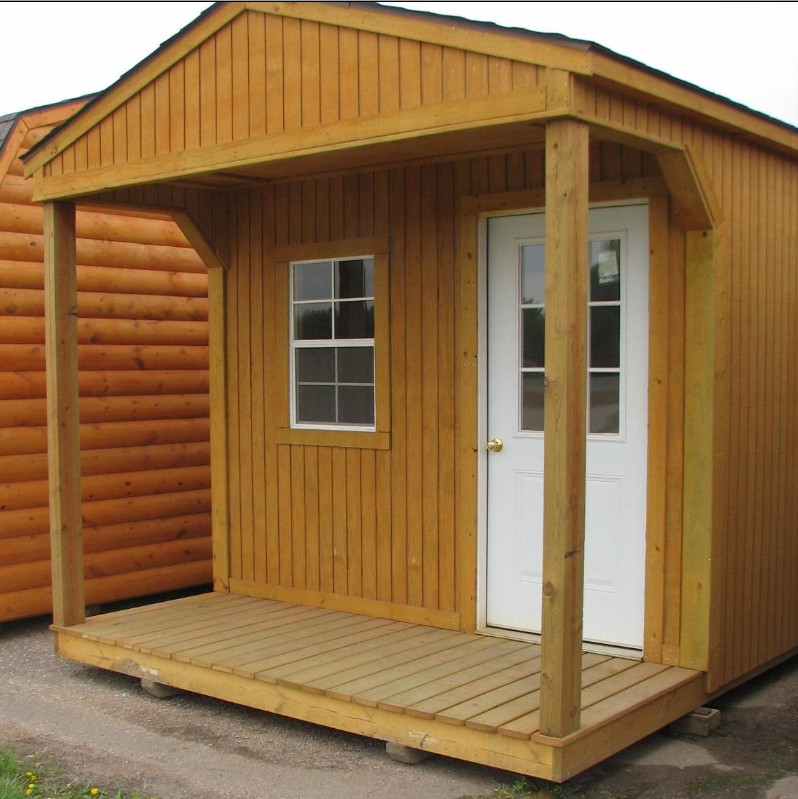 The Office can also be ordered with log siding, providing a true "log cabin" look and appeal. Many other options are available including a metal roof option which provides even more durability and reduced maintenance
Your Better Built building will be custom built to your specifications, allowing you to specify such things as overall building size, door and window sizes and locations, and shingle colors that blend with existing structures.
Some of our customers have even ordered larger buildings with a roll up door on the end opposite the porch. They have then added an interior wall to seperate their "Garage" from the rest of the building.
Built upon sturdy 4x6 pressure treated skids with 2x6 treated floor joists and heavy duty 3/4" plywood flooring, the Office is built to provide many years of trouble free service. This is a true "multi-purpose" building that can satisfy a multitude of applications
Prices include features as shown in product catalog for each specific model. Many options are available that allow you to customize your building to your specific liking. Please see the pricing page or contact us for current option pricing.